Collections: Winter 2013/14
Period : December 17, 2013 – February 23, 2014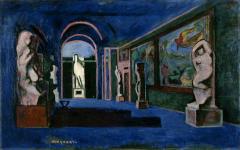 It is with great pleasure that we present Collections: Winter 2013/14.
The Museum of Modern Art, Wakayama, whose predecessor was the Wakayama
Prefectural Museum (founded in 1963), inaugurated in the building of Kenmin
Bunka Kaikan (the Cultural Hall for Citizens) in November 1970. It kept
mainly forcusing on introducing artists related to Wakayama after the Meiji
Restoration and started its activities anew at the current building designed by
architect KUROKAWA Kisho in 1994. On the occasion of the relocation, it
expanded the range of the collection, and it now holds more than 10,000-piece of
works from home and abroad.
The exhibits at Collection Galleries are changed seasonally with various aspects,
and this time with four sections: Artists from Wakayama and Modern Art,
Dissolving Abstraction and Human and Clothing in the first half, and at the last
section after the featuring exhibition Human and Universe comes a small
section named Aspects of Plates.
The first section Artists from Wakayama and Modern Art introduces the
tendency of the Modern Art in Japan which explored its own identity after being
exposed to the western culture in the Meiji Era, with works by local artists and
recent acquisitions. The following section Dissolving Abstraction focuses on
strokes on large paintings by Mark ROTHKO, OKADA Kenzo, YAMADA
Masaaki and so on. At the Human and Clothing, various works are gathered in
the light of clothes which are never separated from the expression of human
beings but are usually paid no attention. To see works cutting across the
boundaries of time and place would let us find new sides of art works.
The last section of this exhibition is Aspects of Plates, a related display to the
simultaneous show Human and Universe, where are three printing artists are
introduced. Here are also presented artists who were especially interested in
the characteristics of each method of printing. Centering around
Wakayama-born artists YOSHIDA Masaji and HAMAGUCHI Yozo, the former
was in pursuit of woodcut and the latter pictured sophisticatedly with black of
mezzotint, we hope you enjoy various aspects of printing methods.
Approximately 110 works will be on view.
Exhibition Information
Venue
The Museum of Modern Art, Wakayama, the 1st floor
Period
December 17, 2013 – February 23, 2014
Opening Hours
Open 9:30 to 17:00
Closed
Closed on Monday (Open on December 17 and January 13, closed on the
following Tuesday), and New Year's Holiday(December 29 - January 3)
Admission Fee
Adults: 340yen, Students: 230yen [free under 18 (high school pupils), over 65
and the disabled]
With the Sponsorship of
the Agency for Cultural Affairs Government of Japan in the fiscal
2013
Contact
The Museum of Modern Art, Wakayama
1-4-14 Fukiage, Wakayama, 640-8137, JAPAN
Tel: +81 (0)73 436 8690
Fax: +81 (0)73 436 1337
http://www.momaw.jp/
Concurrent events
Materials and Substance(s): December 21, 2013 – February 11, 2014
Human and Universe: A Drama — FUKITA Fumiaki/ HORII Hideo/ NAGAOKA
Kunito: December 17, 2013 – February 23, 2014